Argentina. who will win between Massa and Milei?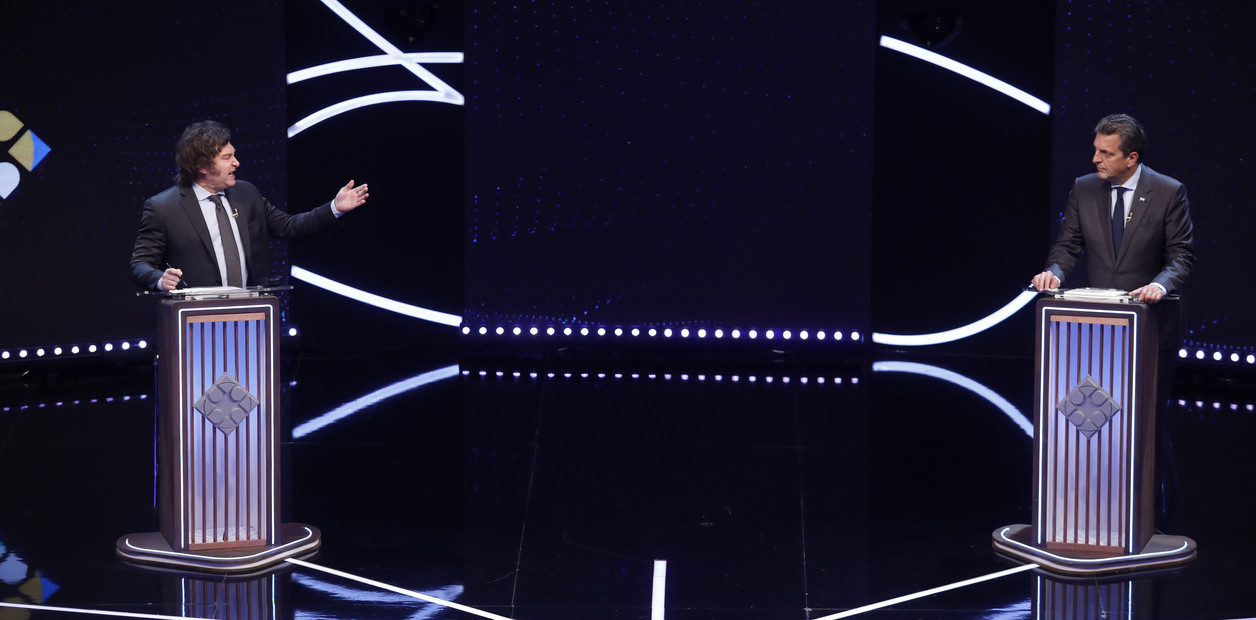 On 19 November, next Sunday, the final round of presidential elections in Argentina will be held, and we will finally know which party will govern for the next few years in Buenos Aires.
The contenders are the Peronist Sergio Massa, continuer of the current Kirchener-fernandez government policy, and the hyper-liberal Javier Milei. A struggle between two seemingly incomatible visions: on the one hand the advocate of the welfare state, even in its most nefarious excesses bordering on corruption and vote bargaining, the second who wants the privatisation of all social services, dollarisation and the liquidation of the Central Bank.
The last election debate was, in a way, astonishing: Massa was not afraid to show himself as the man of the apparatus, a professional politician, but he was very aggressive. In contrast, Milei, who is usually the 'Tough Guy', avoided bringing up the scandals that run through the Peronist government, including, not least, the latest one involving the powerful executive 'Chocolate' Rigau and the recent arrests by the judiciary. In contrast, Milei remained on the defensive, appearing nervous. He did not fall into Massa's traps, but did not appear incisive, thus leaving the final victory to the Peronist.
The polls are uncertain, one gives victory to one, another to the other, as you can see in the examples below: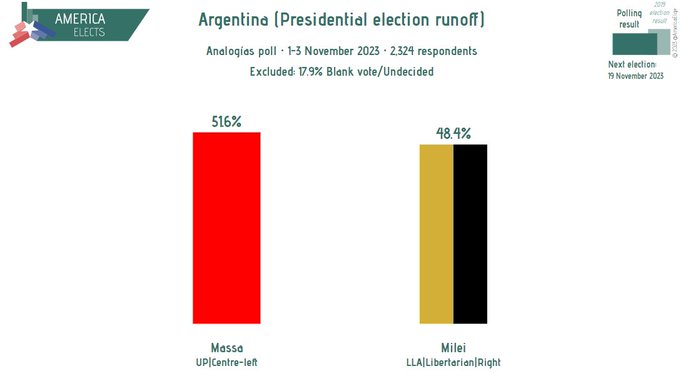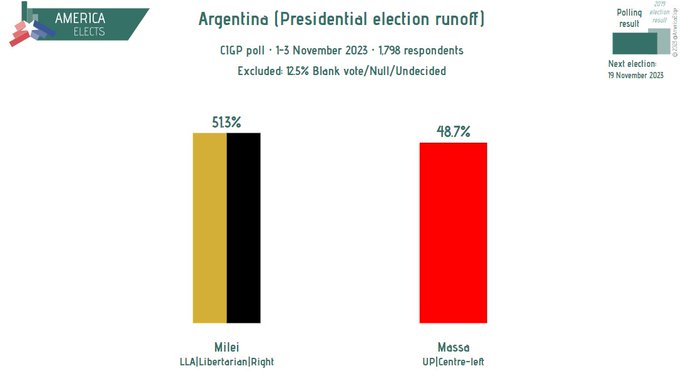 In reality, Massa appears slightly ahead, not least because he won the second round by surprise. If Milei was the surprise of August, in contrast the veteran Massa was the surprise of the October round. Nobody expected him to overtake Milei, and instead this happened.
At this point, however, the gap is too thin to give victory certainly to one or the other party, but Massa's party is well anchored in the territory, both positively and negatively, and despite Milei's electoral arrangements he is ahead.
However, the surprise remains just around the corner.