The areas of Italy where life is best and where it is worst. The 2023 quality of life ranking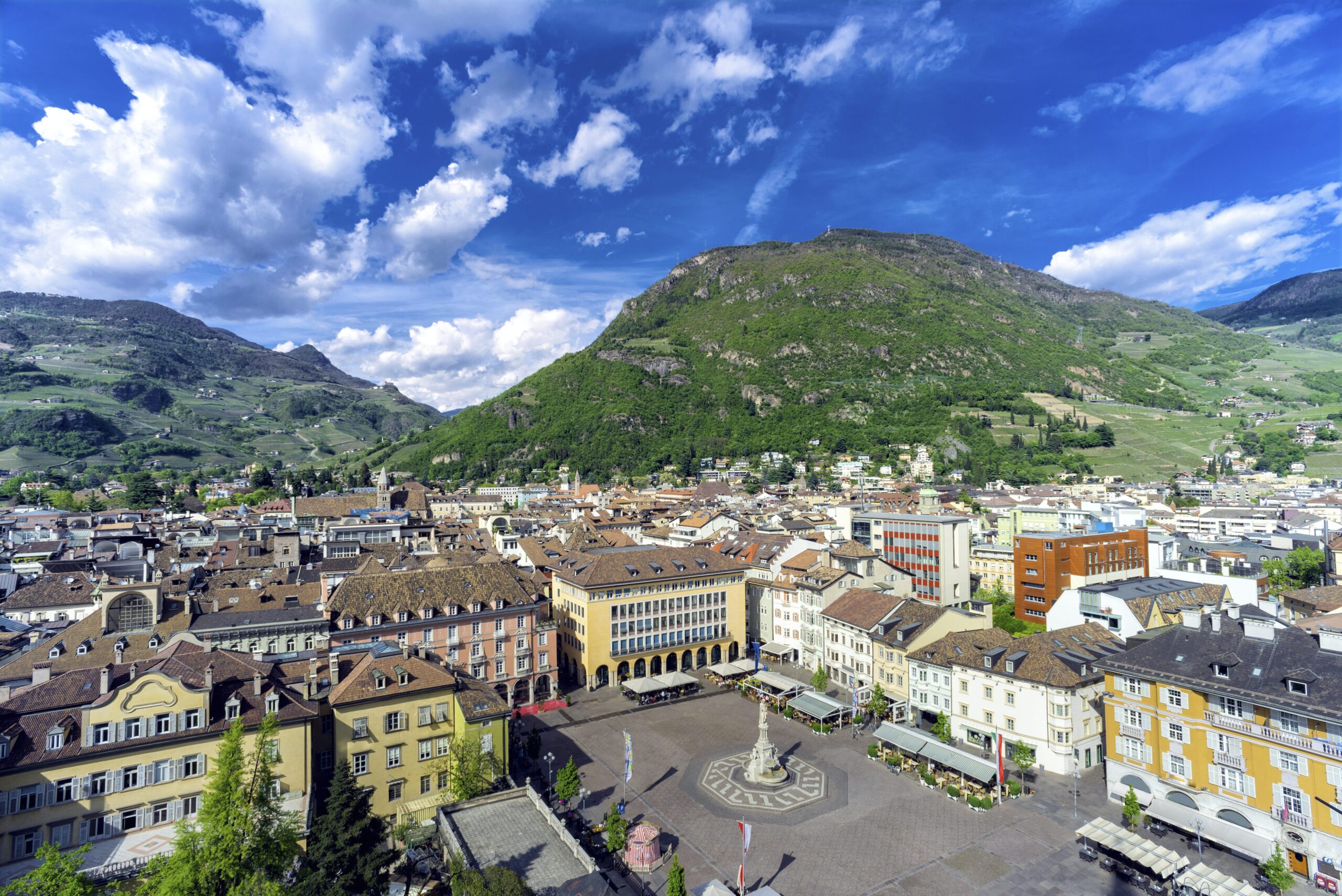 Ever wondered where the sweet spots and the not-so-pleasant corners of Italy are in terms of quality of services? Picture the allure of the Dolomites and the beating heart of bustling metropolises.
Taking the lead in the 2023 quality of life podium is none other than the province of Bolzano, a perennial champion in the realm of 'good living' (it secured the 2nd spot in 2022). Hot on its heels are the dynamic duo of metropolitan cities, Milan and Bologna, claiming 2nd and 3rd place, respectively. Notably, they've not only maintained but improved upon their 2022 performances, ranking 5th and 3rd out of 107. Following closely are Trento and Florence.
These rankings are courtesy of the Quality of Life Survey conducted by ItaliaOggi – Ital Communications in collaboration with La Sapienza University of Rome, now celebrating its 25th edition. Here the best and worst position in this challenge, starting with 2023 position, the area, points and position in 2022.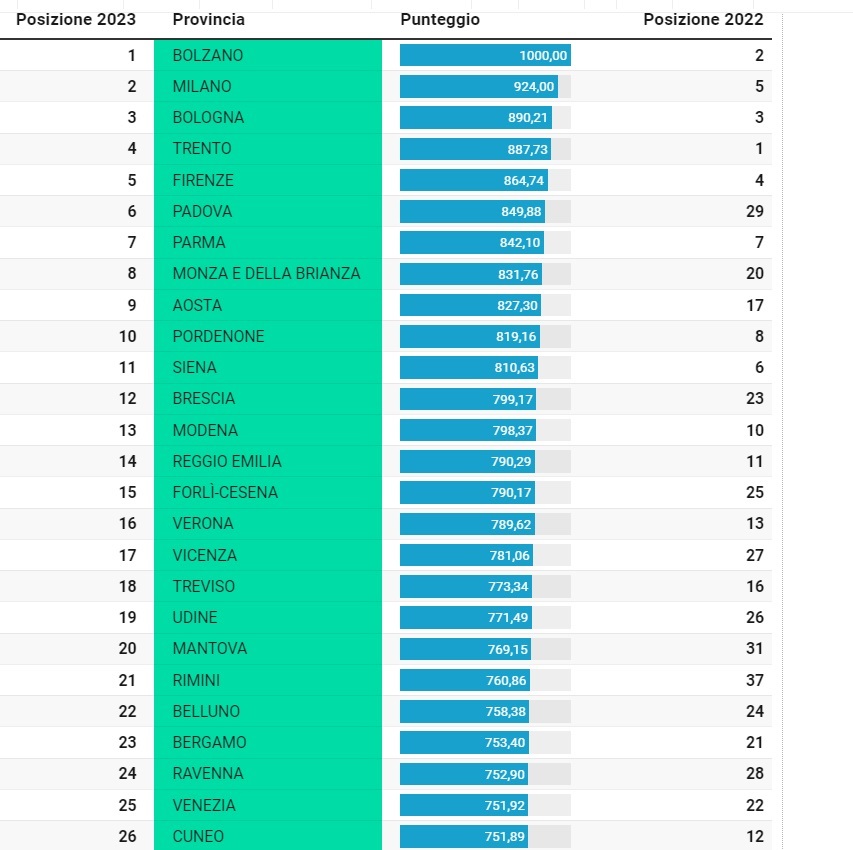 Now, to the less enviable end of the spectrum, mirroring the 2022 standings, we find Crotone in Calabria (107th), along with the Sicilian provinces of Messina and Caltanissetta at 105th and 106th, respectively. here the worse areas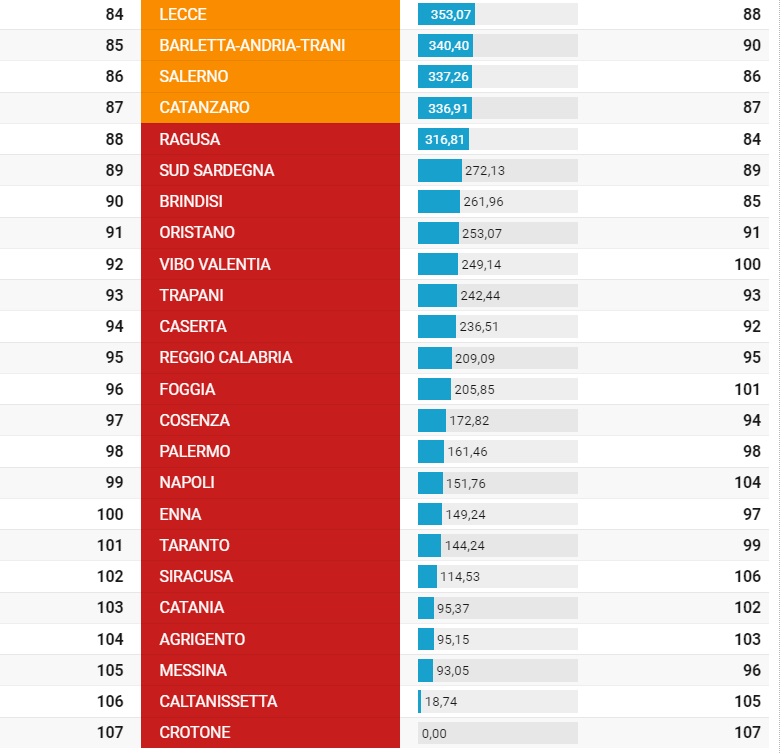 The survey scrutinizes various dimensions, including business and work, environment, education and training, population, crime, income and wealth, social security, health system, and leisure.
The perennial tale of the gap between Central-Northern and Southern Italy. In 2023, the quality of life in Italy sparkled in 63 provinces out of 107, echoing the patterns of the past two years (64 in 2022; 63 in 2021; 60 in 2020, the pandemic year). The alpine, central, and eastern Alps, the Po Valley, and the Tuscan-Emilian Apennines, extending towards Tuscany, Umbria, and Marche, basked in the glow of good or acceptable living.
In contrast, the provinces of the South and the Islands largely found themselves in groups 3 and 4 of the survey, tagged with the assessment of poor or insufficient quality of life.
A distinctive trend emerges in the 2023 survey, a 'post-Covid' narrative. A robust recovery has swept through provinces and metropolitan cities in the Centre-North, notably within the 'Metropolis' cluster. This renaissance is vividly portrayed by Lombardy's capital securing the 2nd position, alongside the notable strides of Bologna and Florence. Turin (31st) and Rome (33rd) also play catch-up, leaping twenty positions compared to 2022, marking a resurgence in these urban hubs.